CureC
™
GHN's new 'highly bioavailable' liposomal vitamin C has life-saving potential
CureC™ is a high-quality Liposomal Vitamin C formula that may protect healthy cells and promote the body's natural healing processes – without any of the unknown side effects often associated with higher doses of Vitamin C.
Good Health Naturally's CureC™ formula is:
Up to 9x better absorbed than tablets, capsules and powders
Gluten-Free, Non-GMO and Non-Soy
Vegan friendly
Tastes great from the spoon!
The CureC™ formula contains 175mg of Quercetin, that enhances antioxidant enzymes produced in the body, by acting as a powerful anti-inflammatory. CureC™ also contains 1000mg of PC (Phosphatidylcholine) that may potentially provide health benefits for the brain and liver.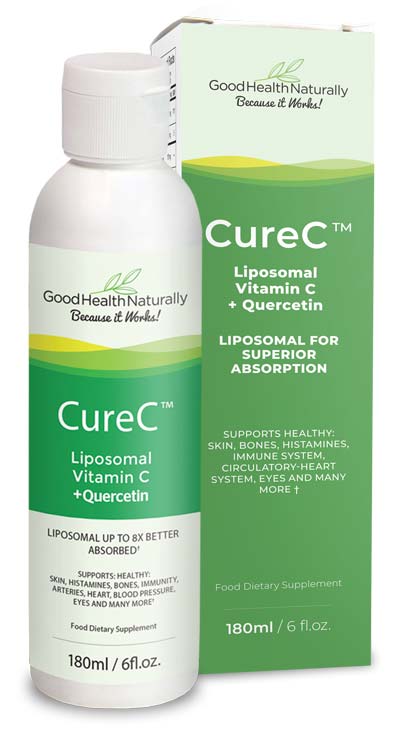 CureC™ may help to naturally promote and support:
Immune function
Brain Health
Heart Health
Healthy bones, cartilage and connective tissues
Normal collagen formation for healthy, radiant looking skin
Good Health Naturally, the trusted supplement brand known for introducing the anti-inflammatory serrapeptase enzyme to the worldwide market, has just launched its new vitamin C formulation CureC™.
CureC™ uses a liposomal delivery method to enhance absorption and improve the health results for customers. Using liposomes – tiny fat bubbles – overcomes the common problem of losing vitamin C through digestion, as liposomes are able to permeate the phospholipid membrane of the cell and increase blood concentrations far quicker compared to eating vitamin C rich food or taking tablets/powders.
Natural liposomes vs. vit C powders?
Nutritionalist says it's 'no contest'
Robert Redfern, the internationally known nutritionalist, author, and broadcaster who founded Good Health Naturally in 1987, explains that, for most people, eating steamed broccoli, mixing up vitamin C powders, or taking vitamin C tablets isn't nearly enough to meet daily requirements. "Cooked and processed foods lose up to 90 percent of their vitamin C," he says.
Robert Redfern Says:
Processing and cooking food destroy nutrients, especially optimal levels of vitamin C. Over the last fifty years, vitamins and minerals in crops have also been rapidly depleted. And, only a small percentage of people are eating the recommended amount of fruits and veggies each day. Low vitamin C levels may impair heart health, blood pressure balance, immunity, collagen production, brain function, and foetal development. 
Whilst most people are opting to supplement vitamin C, not all products on the market are created equal. Whilst researching for his new product, Redfern saw what these products were lacking: Absorption. Vitamin C is one of the few nutrients the body can — and should — absorb in high doses. 
"The vitamin C powders and tablets lost in the digestive tract are a waste of money, and of good health," Redfern says. "While IV vitamin C has the highest potency, it's only practical for Clinical use. Good Health Naturally CureC™, made with liposomal vitamin C and combined with the flavonoid quercetin for added anti-inflammatory effects, is the closest to this medical standard we can use at home." 
This is another thing the typical vitamin C supplement is lacking: quercetin. Redfern handpicked quercetin as CureC™'s key supporting nutrient because of its standalone abilities. Combined with liposomal vitamin C, quercetin's proven properties – able to neutralise free radicals, calm inflammation, fight allergies, help chelate heavy metals, balance blood pressure, and more – only add to vitamin C's effects.
Quercetin is the phytonutrient found in brightly coloured fruits and vegetables and dark leafy greens. Like vitamin C, it's hard, and often impossible, to absorb enough through diet alone. Quercetin is a known antihistamine and supplementing it may help relieve the symptoms of seasonal allergies, as well as supporting other respiratory issues such as asthma and bronchitis. Increasing levels of this flavonoid also shows great promise for aggressive cell disruption. Quercetin can support prostate health and may prevent neurodegenerative decline related to the brain.
Considered cheap and convenient, vitamin C tablets can actually take several hours to absorb. This is because over-the-counter vitamin C doesn't utilise the body's natural form of delivery.
In contrast, the liposomal vitamin C and quercetin in CureC™ are encapsulated in a phospholipid, making absorption far quicker and superior. These liposomes are able to permeate the phospholipid membrane found in human cells, making it easily recognised, transported and utilised by the body. Research also shows that without the right delivery vehicle quercetin is poorly absorbed, and is thereby much more bioavailable when added to a liposomal product.
Because of its highly bioavailable delivery system, CureC™ liposomes can increase circulating concentrations more than unencapsulated oral vitamin C. Good Health Naturally's new CureC™ can absorb much faster, without any of the side effects associated with over-the-counter vitamin C supplements. Redfern says, "There's really no contest." 
"The latest research shows that helping our body absorb more vitamin C could actually save lives," says Redfern. "Giving septic patients a vitamin C infusion has cut down hospitals stays by as much as one week. Taking high-dose vitamin C liposomes at home not only helps the product last longer, cutting costs, but for someone with allergies, low energy, osteoporosis, or even cells needing extra support, there are now new possibilities."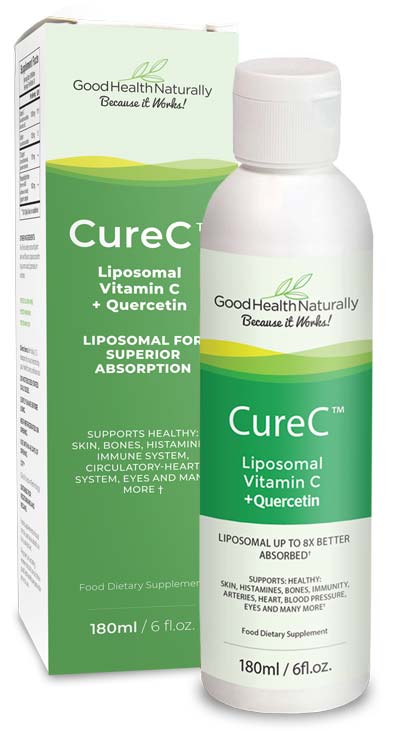 CureC

™

is a

Good Health Naturally

product.

Formulated by Robert Redfern
Shops in UK that are selling
CureC™
Bio Organix Store
141 Drummond Street London NW1 2PB
Ceres Natural Foods Ltd
9-11 Princes Street Somerset BA20 1EN
Discount Health Store
96 The Dolphin CentrePoole BH15 1SS
Highland Health Store
7 & 16 St. John Street Perth PH1 5SP
Natural Health Products
10 Prince Regent Road Belfast BT5 6QR
Nature's Store
4A Lord Street Leigh WN7 1DP
Organic and Me
36e Rookery Road Birmingham B21 9NB
Quality Vitamins and Herbs
123 Douglas Street Glasgow G2 4HF
The Fitness Connection
83 Seaforth Road Liverpool L21 3TY
The Real Food Company
50 Sandbach Road South Alsager ST7 2LP
Bude Health Store
8 Lansdown Road Bude EX23 8BH
Demeter Health and Nutrition
15 Welles Street Sandbach CW11 1GT
Dolphin Fitness
30 Dolphin Road Shoreham BN43 6PB
Living Natural
9 Hulme High Street Manchester M15 5JR
Naturalife Wholefoods
18 Antelope Walk Dorchester DT1 1BE
Nelson Nutrition
24 Marsden Mall Nelson BB9 9SL
Pure Health
56 Chaseside London N14 5PA
Raw Living
23/24 The Stables Totnes TQ9 5LE
The Health Workshop
4 Rushton Yard Ashby de la Zouch LE65 1AL
Today's Living
92 Clapham High Street London SW4 7UL
Bursting With Health
37 Mere Rd Blackpool FY3 9AU
Dennis Gore Chemist Ltd.
26 Whittaker Lane Prestwich M25 1FX
Health First
644 Kingsbury Road London NW9 9HN
Natural Health
339 Ballards Lane London N12 8LJ
Nature's Remedies
3 Market St Southport PR8 1HH
Nutrition & Beauty Centre
246 Upper Tooting Road London SW17 7EX
Quality Health Foods
3 Westminster Arcade Harrogate HG1 2RN
Sacred Essence
4b Lake Road Business Park Coniston LA21 8EW
The Homeopathic Clinic
Hollands Farm Liverpool L31 4HL
Tudor Pharmacy
3 Tudor Parade Rickmansworth WD3 4DF
About Good Health Naturally
Good Health Naturally was founded in 1987 by Robert Redfern after the premature death of both his parents in their early 60s, with the principle of improving the health and wellbeing of people's lives through nutrition, supplements, vitamins, and minerals, as well as raising awareness about the benefits of using natural solutions. As a leading health solution provider, Good Health Naturally only uses the highest-grade, certified ingredients of the purest quality and never uses low-quality, cheap fillers, as many other suppliers do. GHN ingredients are clinically proven, supported by studies, extensively researched, and manufactured to the highest-quality standards.
Sources:
Rickman JC, Barrett DM, Bruhn CM. Nutritional comparison of fresh, frozen and canned fruits and vegetables. Part 1. Vitamins C and B and phenolic compounds. Journal of the Science of Food and Agriculture. 2007;87(6):930–944.
Davis DR, Epp MD, Riordan HD. Changes in USDA food composition data for 43 garden crops, 1950 to 1999. J Am Coll Nutr. 2004 Dec;23(6):669-82.
Latetia Moore, epidemiologist, Obesity Prevention and Control Branch, U.S. Centers for Disease Control and Prevention; Jordana Turkel, R.D., LDN, CDE, Lenox Hill Hospital, New York City; Joy Dubost, registered dietitian, Washington, D.C., and spokeswoman for the Academy of Nutrition and Dietetics; July 10, 2015, Morbidity and Mortality Weekly Report.
Janelle L. Davis. (2016). Liposomal-encapsulated Ascorbic Acid: Influence on Vitamin C Bioavailability and Capacity to Protect Against Ischemia–Reperfusion Injury. Nutr Metab Insights. 9 (-), 25-30.
Pharmacokinetics of oral vitamin C. Stephen Hickey, Hilary J. Roberts & Nicholas J. Miller. Journal of Nutritional & Environmental Medicine. Vol. 17, Iss. 3, 2008.
Costa LG, Garrick JM, Roquè PJ, Pellacani C. Mechanisms of Neuroprotection by Quercetin: Counteracting Oxidative Stress and More. Oxid Med Cell Longev. 2016;2016:2986796. doi: 10.1155/2016/2986796. Epub 2016 Jan 24. Review.
Serban MC, Sahebkar A, Zanchetti A, Mikhailidis DP, Howard G, Antal D, Andrica F, Ahmed A, Aronow WS, Muntner P, Lip GY, Graham I, Wong N, Rysz J, Banach M; Lipid and Blood Pressure Meta‐analysis Collaboration (LBPMC) Group. Effects of Quercetin on Blood Pressure: A Systematic Review and Meta-Analysis of Randomized Controlled Trials. J Am Heart Assoc. 2016 Jul 12;5(7). pii: e002713. doi: 10.1161/JAHA.115.002713. Review.
Yang F, Song L, Wang H, Wang J, Xu Z, Xing N. Quercetin in prostate cancer: Chemotherapeutic and chemopreventive effects, mechanisms and clinical application potential (Review). Oncol Rep. 2015 Jun;33(6):2659-68. doi: 10.3892/or.2015.3886. Epub 2015 Mar 31. Review.
Sabogal-Guáqueta AM, Muñoz-Manco JI, Ramírez-Pineda JR, Lamprea-Rodriguez M, Osorio E, Cardona-Gómez GP. The flavonoid quercetin ameliorates Alzheimer's disease pathology and protects cognitive and emotional function in aged triple transgenic Alzheimer's disease model mice. Neuropharmacology. 2015;93:134–145. doi:10.1016/j.neuropharm.2015.01.027.
Li Y, Yao J, Han C, et al. Quercetin, inflammation and immunity. Nutrients. 2016;8(3):167.
Abdulmonem I. Murayyan, Cynthya M. Manohar, Gordon Hayward, Suresh Neethirajan. Antiproliferative activity of Ontario grown onions against colorectal adenocarcinoma cells. Food Research International, 2017; 96: 12 DOI: 10.1016/j.foodres.2017.03.017.
Alpha A. Fowler, Jonathon D. Truwit, R. Duncan Hite, Peter E. Morris, Christine DeWilde, Anna Priday, Bernard Fisher, Leroy R. Thacker, Ramesh Natarajan, Donald F. Brophy, Robin Sculthorpe, Rahul Nanchal, Aamer Syed, Jamie Sturgill, Greg S. Martin, Jonathan Sevransky, Markos Kashiouris, Stella Hamman, Katherine F. Egan, Andrei Hastings, Wendy Spencer, Shawnda Tench, Omar Mehkri, James Bindas, Abhijit Duggal, Jeanette Graf, Stephanie Zellner, Lynda Yanny, Catherine McPolin, Tonya Hollrith, David Kramer, Charles Ojielo, Tessa Damm, Evan Cassity, Aleksandra Wieliczko, Matthew Halquist. Effect of Vitamin C Infusion on Organ Failure and Biomarkers of Inflammation and Vascular Injury in Patients With Sepsis and Severe Acute Respiratory Failure. JAMA, 2019; 322 (13): 1261 DOI: 10.1001/jama.2019.11825.
Claire M. Doskey, Visarut Buranasudja, Brett A. Wagner, Justin G. Wilkes, Juan Du, Joseph J. Cullen, Garry R. Buettner. Tumor cells have decreased ability to metabolize H2O2: Implications for pharmacological ascorbate in cancer therapy. Redox Biology, 2016; 10: 274 DOI: 10.1016/j.redox.2016.10.010.